Portland Oregon Market Update / Nov 19
Friday, November 15, 2019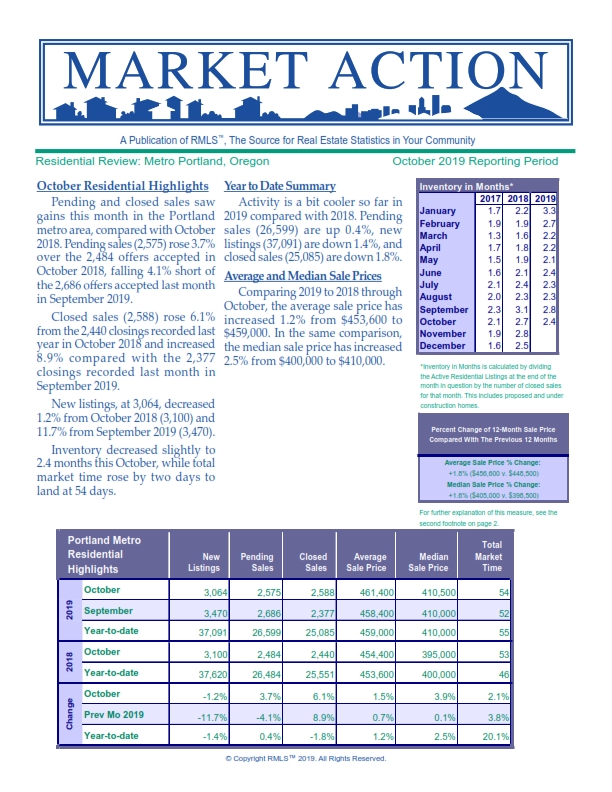 The latest stats came out from the Portland area MLS for the month ending October 31st, 2019 and here they are. Pending and closed sales saw some gains in October when compared to 2018 with pending sales up 3.7%, but down 4.1% when compared to September of this year. For closed sales (keeping in mind the average closing time is about 40ish days) rose 6.7% over last year AND rose 8.9% over September of this year with 2,377 closed sales registered for the Portland metro area (not including Washington State).
As for new listings at 3,064 they decreased 1.2% from October of last year and decreased 11.7% compared to September. This results in an inventory slight decline to 2.4 months supply for October.
Year to date, activity is still a bit cooler in 2019 when compared to last year. Pending sales are up 0.4%, new listings are down 1.4% and closed sales at 25,085 so far this year are down 1.8%. When comparing 2019 with 2018 through October, the average sales price has increased 1.2% from $453,600 to a new high of $459,000.
You can view the entire seven page report courtesy RMLS by clicking here.
Our featured home this month is one of the best buys I have seen in a very long time. Its a huge home on 4.2 Acres overlooking the Sandy River and is recently updated. This home is over 6,100 square feet on two levels, has three bedrooms, high cielings, an in-ground pool, a huge mostly finished basement and so much more. You can view teh home here https://www.roblevy.com/Property/28201-SE-SWEETBRIAR-RD-Troutdale-Oregon