Portland Oregon Real Estate Update April 2017
Sunday, April 16, 2017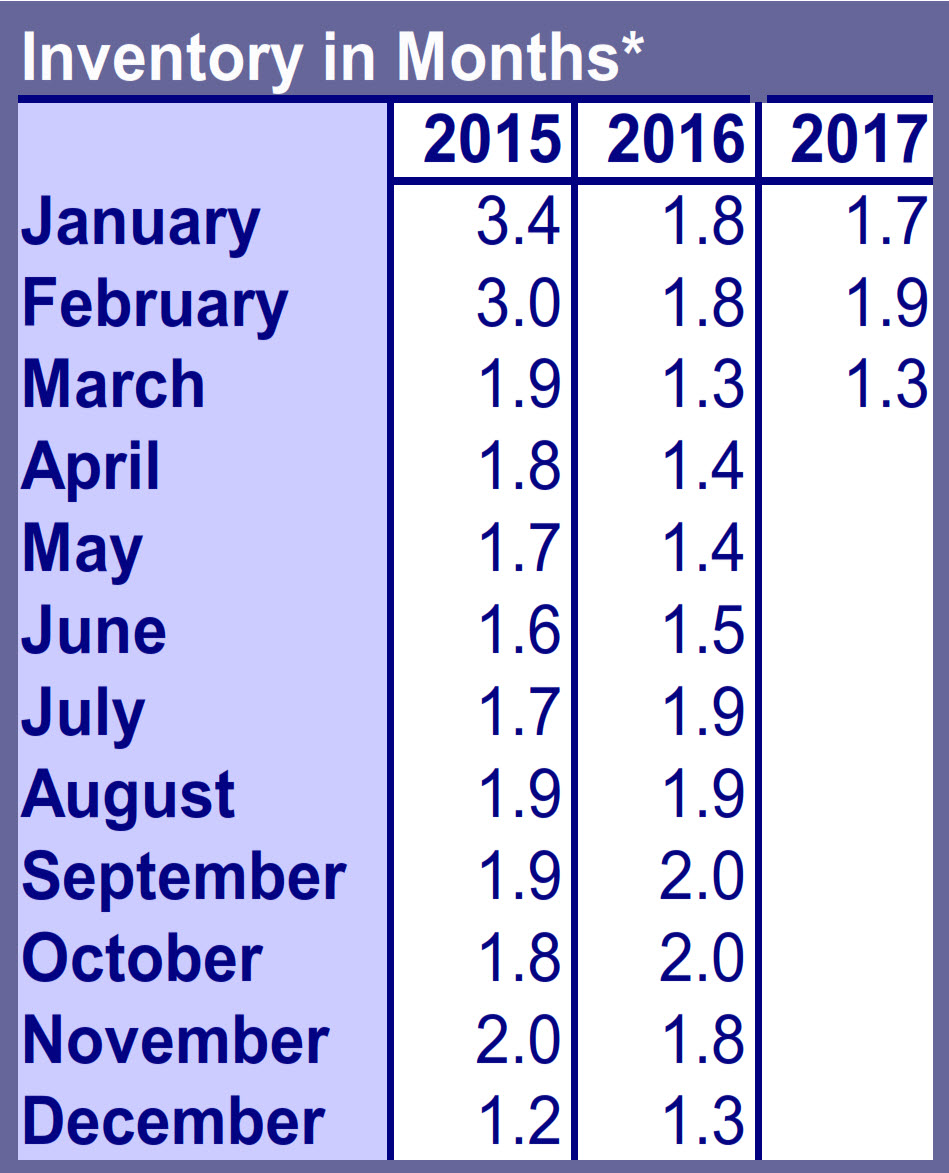 March Residential Highlights The Portland metro area hada sunny month for new listings this March. At 3,604, new listings outpaced March 2016 (3,409) by 5.7% and February 2017 (2,521) by 43.0%. This was the strongest March for new listings in the area since 2010, when 4,987 were offered for the month. Pending sales (3,043) warmed 28.5% over last month in February 2017 (2,369) but fell 1.1% short of the 3,076 offers accepted during this month last year in March 2016. Closed sales, at 2,494, similarly outpaced February 2017 (1,669) by 49.4% but still ended 2.8% cooler than in March 2016 when 2,565 closings were recorded for the month. Total market time decreased by four days this March, ending at 58 days.
Inventory decreased as well, ending at 1.3 months. There were 3,313 active residential listings in the Portland metro area this March. Average and Median Sale Prices Comparing the average price of homes sold in the twelve months ending March 31st of this year ($404,300) with the average price of homes in the twelve months ending March 2016 ($361,100) shows an increase of 12.0%. In the same comparison, the median has increased 12.2% from $315,000 to $353,500.
This months chart shows the inventory of available homes in the Portland Metro area dating back to January of 2015. A "balanced" market as defined by HUD and the National Assn Realtors is 5.5-6 months of inventory, and as you can see we are far short of that with only 1.3 months of supply right now. If you have been considering selling your home, now might be the time to do so.
This months featured home is an amazing estate on the Willamette river in West Linn. This 4,436 square foot custom built home sits overlooking the river with a huge great room with Brazilian cherry floors, and an incredible gourmet kitchen with a massive island and American cherry cabinets and much more. There is a formal dining room plus a small master and office on the main floor. Upper level has the spacious master suite, plus two additional bedrooms and a bonus room too. All bedrooms have their own balconies. This home also sits above a five plus car garage, with a pull through door leading to a boat ramp the river, and has a dock too! Check it out at http://www.roblevy.com/Property/4993-MAPLETON-DR-West-Linn-17380137