Portland Real Estate Update January '19
Wednesday, January 16, 2019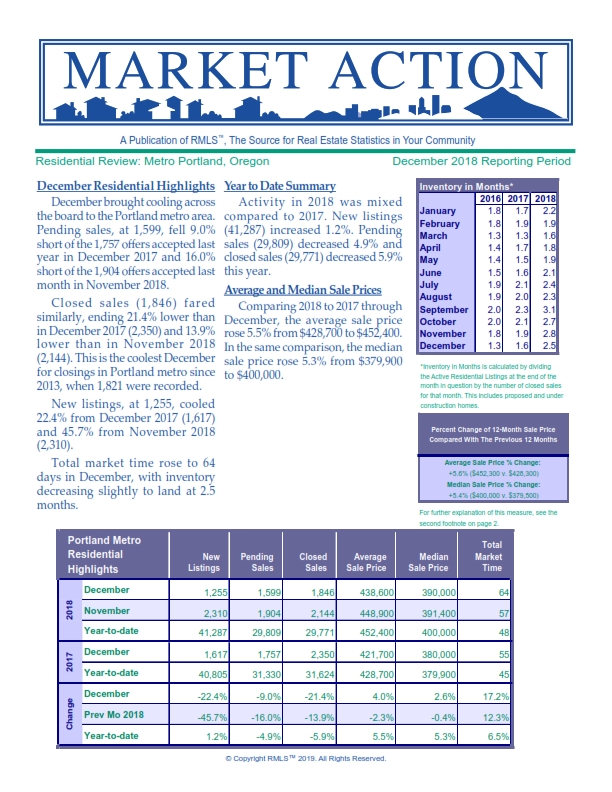 Well, the final numbers are in for 2018 and the Portland area fared quite well, despite a year end slowdown that was much bigger than normal. For the year ending December 31st, 2018, the average sales price of all Metro Portland area homes ended up 5.5% over 2017 with the average sales price being $452,400 (compared to $428,700 at the end of 2017). By the same comparison, the median sales price rose 5.3% from $379,900 to $400,000 even. This was as closed sales decreased by 5.9% to 29,771 closed home sales.
Obviously the local areas all fared differently, for instance Lake Oswego's average sales price is now $676,200 with Bethany (North of 26) coming in at $532,900. SW Portland ended up at $612,700 and SE at $419,100 and NE at $469,300.
You can download the entire 7 page report (courtesy RMLS) byCLICKING HERE.
Our featured home of the month this month is a "wall home" in coveted Forest Hills, super close to 217 and 26 intersections, next to Cedar Hills. This home is almost 3,000SF, has a master on the main floor, 4 bedrooms and an in-ground heated pool too! You can see the home by CLICKING HERE