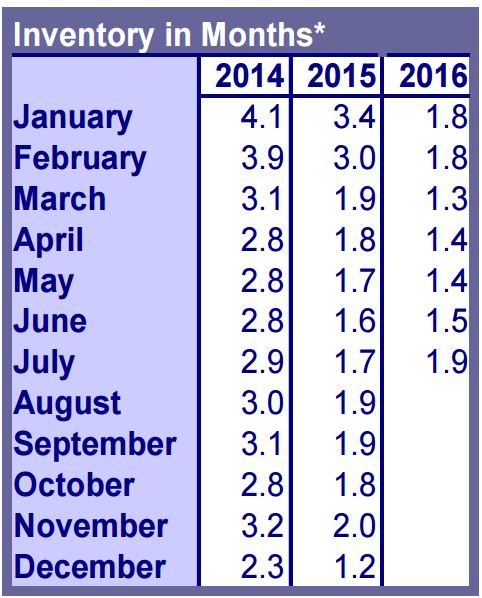 Real estate activity in the Portland metro area cooled slightly in July. New listings (4,372) rose 2.3% from July 2015 (4,273), but cooled 2.9% from new listings offered last month in June 2016 (4,501). Even so, this was the strongest July for new listings in Portland since 2008, when 5,237 new listings were offered for the month.
Pending sales, at 3,302 for July, came up 5.5% cooler than in July 2015 (3,494) and 2.6% cooler than last month in June 2016 (3,390). Closed sales (2,776) fell 19.6% short of July 2015 (3,452) and were 12.1% cooler than the 3,158 closings recorded last month in June 2016.
Inventory in the Portland metro area increased again in July, crawling to 1.9 months. Total market time fell by one day, landing at 32 days. The Portland metro area recorded 5,360 active residential listings in July. Year to Date Summary Activity has been mixed in 2016 compared to 2015. New listings (26,358) are up 0.1%. Closed sales (18,406) are down 1.9% and pending sales (20,974) are down 2.8% for the year thus far.
Average and Median Sale Prices Prices continue to rise in the Portland metro area. Comparing 2016 to 2015 through July, the average sale price rose 11.4% from $351,600 to $391,600. In the same comparison, the median sale price rose 11.5% from $304,900 to $340,000.
This months home of the month is lovely home close to Westlake Park area of Lake Oswego. Its 2,412 square feet, 4 bedrooms and 2.5 baths for only $499,900 - a super buy in this area. You can check it out here