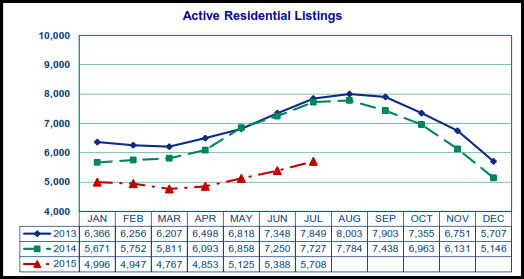 Year to Date Summary. Activity has been higher in 2015 than in 2014 across the board. Pending sales (21,579) are up 24.5%, closed sales (18,754) are up 22.0%, and new listings (26,336) are up 8.4% for the year thus far. Prices continue to rise in 2015 compared to 2014. Comparing each year through July, the average sale price rose 6.1% from $331,400 to $351,600. In the same comparison, the median sale price rose 7.0% from $284,900 to $304,900.
Real estate activity in the Portland metro area saw increases across the board compared to July of last year. Closed sales outpaced all measures—the 3,452 closings bested last month (3,302) by 4.5% and last July's 2,678 by 28.9%. In fact, it was the best July for closings in Portland on the RMLS™ record! Pending sales (3,494) fell 3.1% short of the 3,605 offers accepted last month (June 2015) but surpassed the 2,802 offers accepted in July 2014 by 24.7%. The last July with more pending sales in the Portland metro area was in 2005, when 3,792 offers were accepted. Similarly, new listings (4,273) were 0.2% cooler than in June (4,280) but outpaced July 2014's 3,954 new listings by 8.1%.
Inventory increased very slightly in July, and currently sits at 1.7 months. Total market time increased just as slightly, now standing at 45 days. There are currently a total of 5,708 active residential listings in the Portland metro area.

Our home of the month is a stunning home on a large lot in the coveted Forest Hills area of Cedar Hills, close to highways 26/217, Nike, transit center and 10 mintues from downtown. This gorgeous home is a hard-to-find single level on a huge manicured lot and is completely remodelled. Check it out by clicking here!