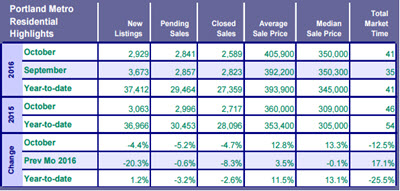 October brought a bit more seasonal cooling to the Portland metro area. New listings, at 2,929 for the month, fell 4.4% short of the 3,063 new listings offered a year prior in October 2015 and were 20.3% under the 3,673 new listings offered last month in September 2016. Closed sales (2,589) similarly decreased 4.7% when compared to October 2015 (2,717) and 8.3% compared to September 2016. Pending sales, at 2,841, only fell 0.6% short of the 2,857 offers accepted last month in September 2016, but ended 5.2% under the 2,996 offers accepted last year in October 2015.
Total market time in the Portland metro area increased by six days in October to end at 41 days. In the same period, inventory stayed put at 2.0 months. There were 5,169 active residential listings in the region in October. Year to Date Summary Activity has been mixed in 2016 compared to 2015. New listings (37,412) are up 1.2%. Closed sales (27,359) are down 2.6% and pending sales (29,464) are down 3.2% for the year thus far.
Average and Median Sale Prices Prices continue to rise in the Portland metro area. Comparing 2016 to 2015 through October, the average sale price rose 11.5% from $353,400 to $393,900. In the same comparison, the median sale price rose 13.1% from $305,000 to $345,000.
Our home of the month is a complete redo on a close in SE Portland home. This place is stunning! 3 bedrooms, 2 full baths, new floors, paint in and out, complete new kitchen with granite counters, new cabinets, backsplash, lighting. All new bathrooms, a fully finished basement and an upper level. Check it out at http://www.roblevy.com/property/3228-SE-24th-Ave-Portland-Oregon