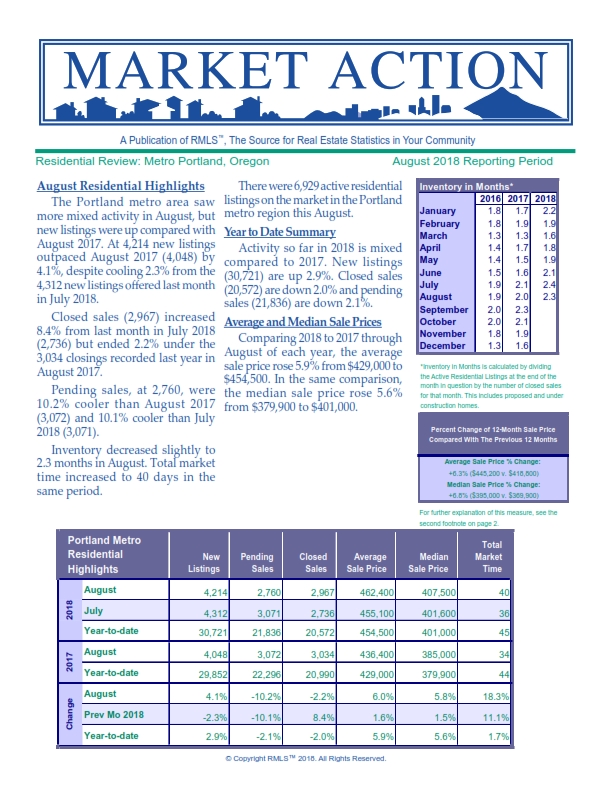 Sorry I am late in getting my newsletter out this month. We recieved the August stats from the MLS a little late, but here is the report.
The Portland Oregon real estate market (like much of the rest of the country) cooled somewhat in August, 2018. Pending sales, the best indicator of the current market because they take about 45 days to close were 2,750 for the month and this is down 10.2% from August of last year and 10.1% cooler than last month, July 2018. Closed sales actually increased 8% over July but this is also a reflection of sales dating back to early June. New listings (4,214) also cooled 2.8% from July
So what does this mean? Is the market crashing? These are the questions as a 30 year top producing Portland Realtor that I get. The answer is it seems the days of 8-12% appreciation might be gone, and it does not mean we are losing money on our homes but it does mean that maybe we can expect a more "normal" 3% or so appreciation. With the average price of a Portland area home now at $454,500 this means that average house if it goes up 3% still increases over $13,000 in a year. Thats healthy. Thats significant.
The prices of homes arent falling, they just arent increasing at the rates we have become accustomed to since 2012!
To see the FULL 7 page report, CLICK HERE!
Our featured home of the month is a stunning traditional style home on almost a full acre of Skyline Blvd. This home has 180 degree valley views, an english garden and is totally private and all for $949,900! Check it out by CLICKING HERE