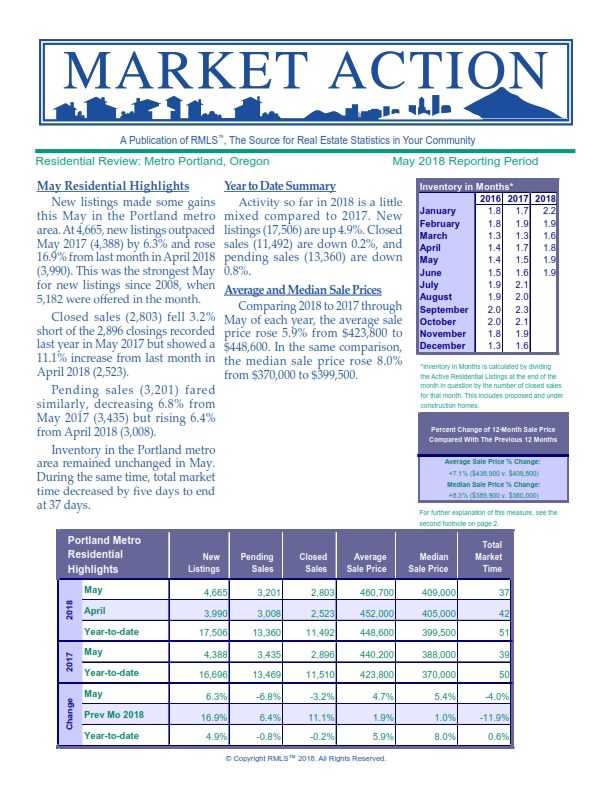 The Portland metro area saw mixed results in May, 2018 the lastest reporting period. New listings increased may 1017 by 6.3% and also rose 16.9% over the previous month (April, 2018) for a total of 4,665.
Closed sales fell though some 3.2% over the same month last year -but- were up 11.1% over April 2018 for 2,803 closed sales.
Pending sales fared similarly with 3,201 new pending sales. This is down 6.8% from May of last year but up 6.4% from April 2018
Our inventory remained pretty much the same with the total market time down five days to an average of 37 days on market.
The average sales price comparing May 2017 through May, 2018 is up 5.9% from $423,800 to $448,600. The median sales price rose 8% from $370,000 to $399,500
As far as whats hot, and whats not.... It seems homes priced under about $450,000 still are selling well, many with multiple offers. However, once you get above the $550,000 range and on upwards it slows down significantly. The report from RMLS (which you can download the entire 7 page report by CLICKING HERE) has a breakdown by area and price.
Keep in mind interest rates keep creeping up. In my opinion as a professional top selling Realtor in the Portland market for 30 years now we may run into an issue..... If the entry level home becomes too hard to buy due to increasing prices and increasing interest rates, then that market slows down. So if the entry level homes dont sell, then the second level homes dont sell to those buyers and so on. Having said that, we are still the bargain basement of the west coast when compared to other large west coast cities, and people continue to move here especially from the bay area and the LA area too.