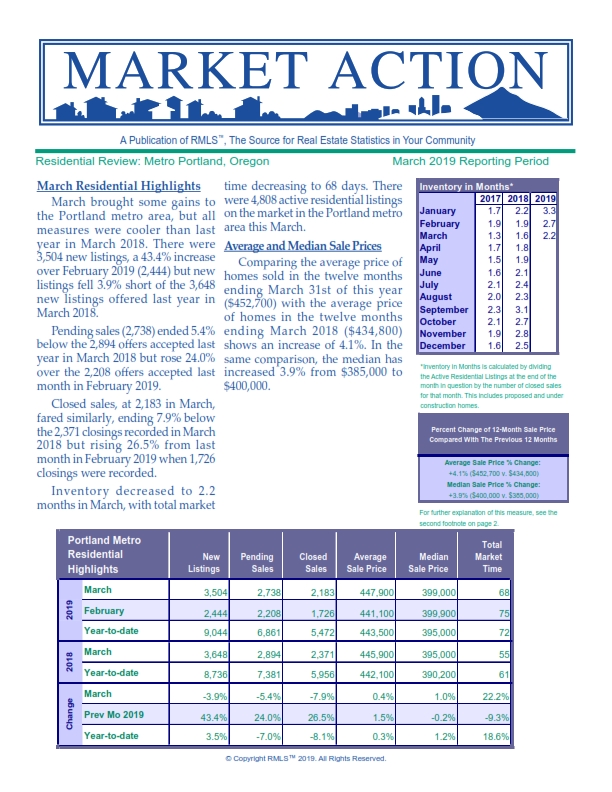 The update for the Portland, Oregon real estate market through March, 2019 is promising, and there were several gains in the housing market. However, the overall was cooler than in March last year. The good news is new listings were up a whopping 43.4% over February (which was an incredibly slow month) with 3,504 new homes hitting the market. Pending sales were also up some 24% over the month previous with 2,738 newly accepted offers. Closed sales were up 26.5% over February with 2,371 closings. All these numbers represented a slight decrease when compared to the same month last year.
Inventory is now sitting at 2.2 months supply of homes with total markeing time now sitting at 68 days, and there are 4,808 homes on the market as of the end of March in the Portland metro area (not counting Washington). The average sales price is up 4.1% when compared to March of 2017 with our latest average sales price sitting right at $452,700 (the median is $400,000). You can view the entire 7 page MLS report for all Portland metro areas by clicking here.
Our featured home this month is a wonderful two bedroom condo off NW Skyline Rd. Super close in to downtown Portland and priced at only $254,900. You can see the condo here.