February saw an increase inclosed sales in the Portland metro region. The 1,467 closed sales represent a 5.1% increase over January's 1,396 closings and a 6.6% increase over the 1,376 closings from February 2013. In fact, it was the best February for closings in the Portland area since 2007, when there were 1,899! Other numbers were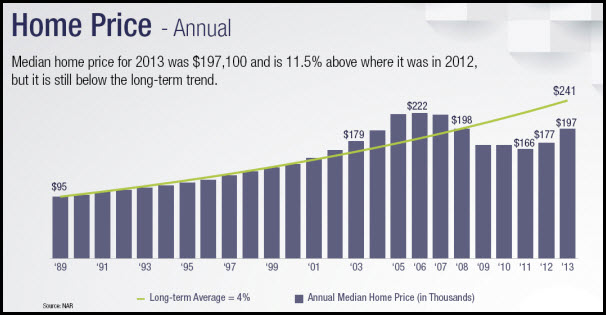 slightly cooler in February—accepted offers, at 1,848 fell 8.8% from January's 2,027 pendings and 13.2% from last February's 2,130 pendings. New listings, at 2,354 in February, fell 8.9% compared to January's 2,583 new listings and decreased 4.0% compared to last February's 2,453 new listings. The number of active residential listings rose to 5,752 in February—lower than both February 2013 and February 2012. Total marke ttime increased to 100 days, but is still the lowest February since 2008. Inventory fell slightly in February to 3.9 months.
Portland-area prices are still rising. Comparing the average price of sold homes in the twelve months ending February 28th of this year ($314,400) with the average price of homes sold in the twelve months ending February 2013 ($278,600) shows an increase of 12.8%. In the same comparison, the median has increased 14.9% from $235,000 to $269,900. Information courtesy RMLS, Portland Oregon. The chart attached shows the median sale price annually on a national level since 1989, and the trending showing that its still a good time to purchase a home.

Our featured home of the month is in the super hot Concordia area of NE Portland. Close to Alberta Arts district, its a single level home with lots of updates and a super outdoor living arrangement. This one came on the market today and the last one we had in the area two weeks ago sold in one day with five offers - so act fast!