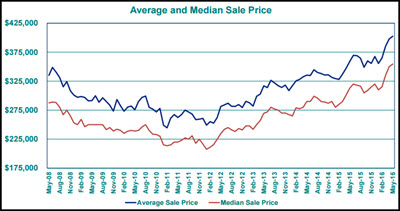 May brought some moderate activity increases to the Portland metro area, but the numbers are cooler than last May. Pending sales (3,563) ended 0.5% higher than the accepted offers from May 2015 (3,546) and 3.8% higher than last month in April 2016. New listings, at 4,144, fell 0.4% short of the 4,161 new listings offered last year in May 2015 but edged 1.5% over the 4,082 new listings offered last month in April 2016.
Similarly, closed sales (2,896) increased 10.9% from the 2,611 closings posted last month in April 2016 but fell 1.6% short of the closings posted the same month last year in May 2015. Inventory remained unchanged in May and currently sits at 1.4 months. Total market time decreased by a few days and currently stands at 37 days. There are currently 4,003 active residential listings in circulation in the Portland metro area.
Average and Median Sale Prices Prices continue to rise in the Portland metro area. Comparing 2016 to 2015 through May, the average sale price rose 11.9% from $342,300 to $383,000. In the same comparison, the median sale price rose 13.3% from $295,000 to $334,200.
This months home of the month is an incredible condo, sitting right on the Willamette River. This home features two bedrooms, a large living room with fireplace, an office/den, three patios and more and is in the coveted RiverPoint Condo just barely south of Downtown Portland. At $1,050,000 its quite the condo for the price and location. You can view this lovely home by clicking here.