Hawthorne Neighborhood Real Estate
Hawthorne Neighborhood Real Estate
by Rob Levy
A popular destination in Southeast Portland is Hawthorne Boulevard, which runs through the heart of the Hawthorne District up to the base of Mt. Tabor City Park. This quirky area, which spans from about 12th to 50th Avenues, is known for its vintage charm and locally owned shops and restaurants. Its central location provides a direct line over the Hawthorne Bridge into downtown Portland.
Originally, Hawthorne was known as Asylum Avenue, due to the fact that the state's first mental hospital was built here in 1862. In 1883, the hospital relocated to its current location in Salem, and the street was renamed in honor of the hospital's co-founder, J.C. Hawthorne. Many of the homes and apartments in this area were built shortly afterwards, starting in the 1900's through the 1950's.
Hawthorne is a great place to go for any homeowner's shopping needs, with a Fred Meyer grocer located right in the middle of it all. For the fashion-forward individual, look no further than Local 35,American Apparel and Buffalo Exchange to stay on top of current trends. Powell's bookstore has a second location on Hawthorne, which is much smaller than the downtown location, but still manages to offer a wide selection of books. Conveniently attached to Powell's is a Fresh Potcoffee shop, where you can sit and enjoy your new book with some of the city's best coffee. Those looking for some retro furnishings might spend some time at House of Vintage, Portland's largest vintage superstore with over 55 independent dealers.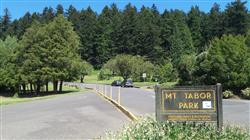 Mt. Tabor Park in the Hawthorne District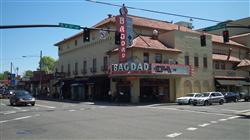 Hawthorne Street
Hawthorne is also home to a wide variety of restaurants and food carts. One of Portland's original food cart pods can be found at 12th and Hawthorne, a late-night food destination spot home to Potato Champion, offering the best poutine in town, Whiffies Fried Pies, which has been featured on the Food Network, and Pyro Pizza, which manages to cram a wood-fired pizza oven into a cart!
Further up Hawthorne is the Mcmenamin's Baghdad Theater & Pub, originally built in 1927 and beautifully restored by the McMenamins brewpub chain. This is the perfect place to go for a meal and a pint (or two) of locally crafted beer before catching a second-run movie in the theater. Afterwards, stop by Ben & Jerry's for some ice cream! Other food options include East Side Deli, a great place to go for a delicious custom-built sandwich, using nothing but the freshest bread and ingredients; The Whole Bowl, a healthy combination of 9 different ingredients, including beans, brown rice and their secret, garlicky sauce; and Apizza Scholls, considered by some to be the best pizza in town, although be prepared to wait at least 45 minutes for a table.
With such a large variety of restaurants and storefronts, it's no wonder that the Hawthorne District is such a desirable place to shop, work and live. A complete list of the areas businesses can be found at the Hawthorne Boulevard Business Association's website.
If you are thinking about buying or selling a home, give us a call at (503) 906-1444 or send us an email to explore your options and to find out when is the best time for you to make a move. Also, feel free to find me on Google+