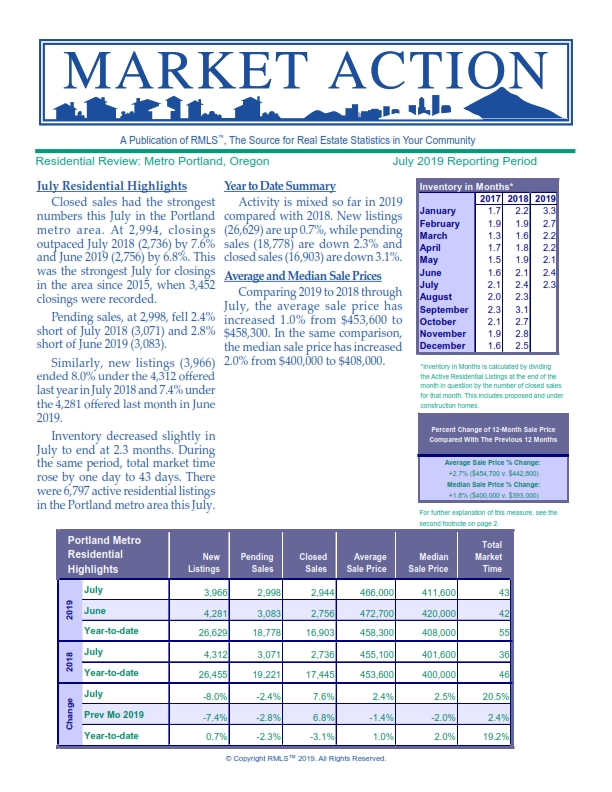 The Portland, Oregon real estate market ended July 2019 with strong closings (representing sales actually made mostly in June) but lower numbers of pending sales and new listings. At 2,994 closed sales outpaced July of 2018 by 7.5% and June of this year by 6.8%. Pending sales as mentioned are down 2.4% over last July, and 2.8% over June this year. New listings ended up down about 7% over last month. Homes are sitting on the market about 43 days on average, although we are seeing less for homes under the magic $450,000 mark and much longer for luxury homes, or homes over about $750,000.
Interestingly with the tarrif mess with China as well as the ongoing Brexit issues, investors are seeing mortgage backed securities as a good, safe investment. Add to this the stock market drops of the last few days resulting in low yeilds are causing mortgage interest rates to be near historical lows again. I am seeing rates in the low 3% range. To put this in persepctive, if you are borrowing $400,000 at 3.5% vs 5.5% the difference is a whopping $475 per month, every month! Put a different way a $475 mortgage payment at 3.5% would buy you about $80,000 worth of additional house! Contact me today if you want to be put in touch with a quality mortgage lender either to buy your new home, or refinance your current home.
You can view the entire MLS report for all Portland areas here.
Our home of the month is a terrific 1938 Cape Cod with an attic and full basement in close-in west side neighborhood of West Slope. This 2680 square foot home sits on a large almost 1/2acre lot that may be sudividable for an additional lot. You can view the home here.