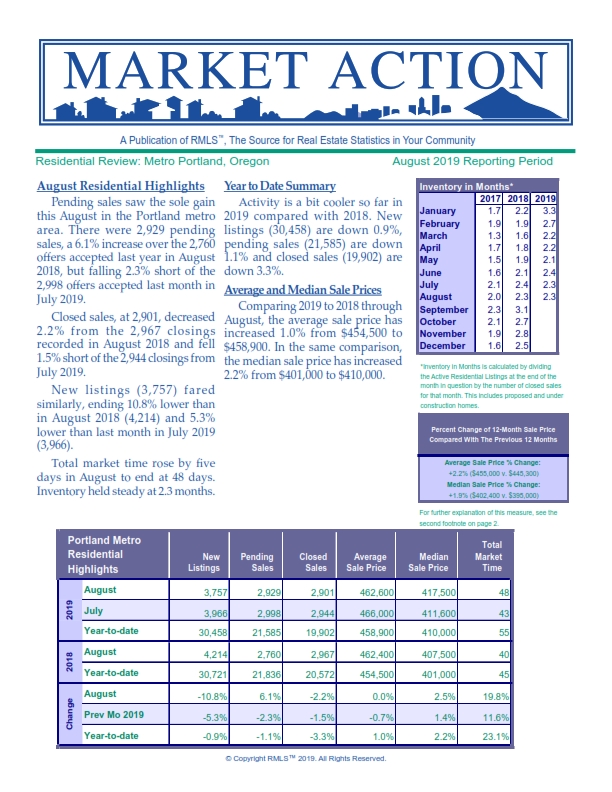 Looking at the Portland, Oregon real estate market ending in August 2019 (the latest stats available) we see a market leveling off.
Closed sales 2,901 units decreased 1.5% when compared to last month (July, 2019) and 2.2% when compared to August of last year. New listings fared about the same, down 10.8% from August of 2018, and down 5.3% over the previous month, ending up at 3,757 new listings. The good news is pending sales at 2,929 homes were up compared to last year at this time, but those too were down 2.3% over July.
As a top selling Realtor in the Porltand area for over 31 year now, I dont understand this trend. We (finally) have sellers who are open to offers and at the same time we have interest rates at 3-4 year lows (Oh, havent heard about that? Well, its not on the news as this type of news does not sell well). My son who recently bought a home from his Dad for $400,000 asked me what the difference means. I quickly pointed out to him what if I bought his home at todays interest rates of 3.5% vs the 5.5% we were close to the monthly payment would be some $655 PER MONTH lower. Thats a HUGE amount.
As to the averages, compared to last August of 2018 the average sales price for the Portland Metropolitan area has increased 1% from $454,500 to $458,900 while the median has increased 2.2% from $410,000 to $410,000
You can view the entire seven page report courtesy RMLS by clicking here.
Our featured home this month is a stellar one at 12033 SW Sylvania Court, in SW Portland. Its a two story home with commanding views of Mt Hood, Mt Adams and Mt St Helens. The street is a fantastic one, I should know, my wife and I raised our three boys two doors away for 19 years. Great location, great access to both Portland and Beaverton, and a great house. You can see the home here... https://www.roblevy.com/Property/12033-SW-SYLVANIA-CT-Portland-19246448