July 2018 Portland Real Estate Update
Friday, July 13, 2018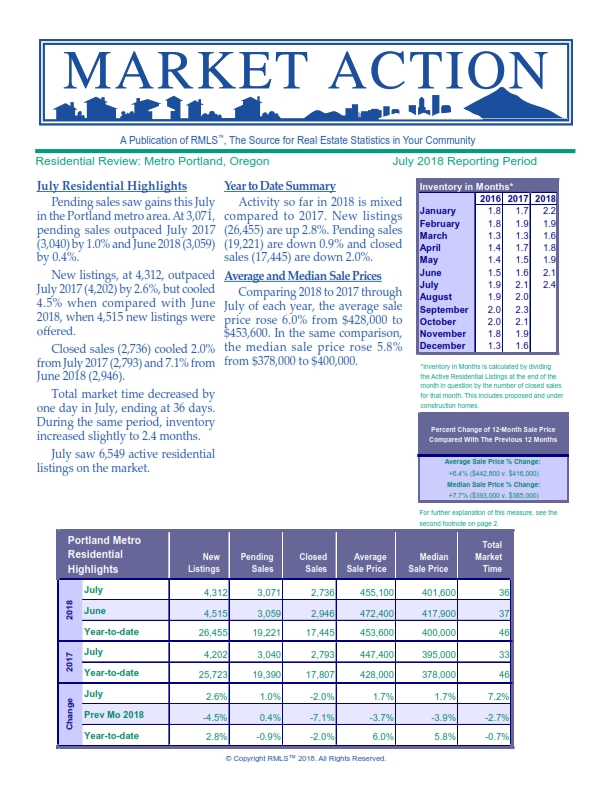 The June 2018 numbers are out for housing in the Portland Metro area and as expected they are down a little from May. Typically our sales drop in the summer a little bit, so its a GREAT time to buy a home as buyers are (a little) more in the drivers seat.
Closed sales in the meantime were up over May, which is a reflection on our busy April and May with 2,946 closed sales vs. 2,803 in May. However, this was the slowest June closings month since 2014. New listings still arent filling the pot enough though, only 4,515 in June which is 3.2% fewer than May. We need inventory for sellers to sell their homes which many are resistant to do as there isnt much to choose from for them to buy. For the year so far though new listings are up 2.7% at 22,079 homes listed for sale in 2018 through end of June.
Average and median prices are still rising, ableit not at such a high clip which is healthy. Comparing the first half of 2018 with the same period in 2017 our average price is up 6.2% to $453,400. The median is also up 6.7% to $400,000 even.
The time on market as of the end of June is 2.1 months. That's a bit higher than the 1.6, 1.8 and 1.9 months for the previous few months, but still well into a "sellers" market. The balance point is always considered to be 5.5 months of inventory.
You can view the entire report (Courtesy RMLS) by clicking here.